Music & Lyrics
Heart Nouveau
With their roots in the folk and gospel traditions and their hearts rooted in the present moment, MaMuse crafts music for the next seven generations to thrive on. Their newest release, Heart Nouveau, is a masterful mix of exquisitely blended heartfelt harmonies lifted with purpose and reverence above sultry strings, and deep percussion.

What sets this album apart from their previous creations is the budding collaboration with singer songwriter Molly Hartwell adding in a third harmony on five of the 13 songs, as well as a tasteful and spunky horn section, keys, violin, and guitar which give new breadth to the well loved sound the duo is known for. Heart Nouveau is a truly moving musical offering of "New Heart".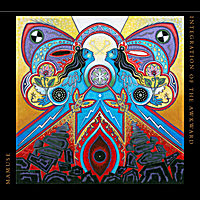 Integration of the Awkward
"MaMuse's new effort is the duo's most sophisticated studio work yet, cementing the singers' ethereal acoustic folk niche that has captivated Chico and beyond. Anchored by the songwriting, instrumentation and soaring vocals of sisters-in-song Karisha Longaker and Sarah Nutting, Awkward's 10 new offerings are buoyant and uplifting charmers, each with its own special distinction. "Goodness Is," the second track, exemplifies the album's collective optimism: "And we'll plant a garden and we'll plant our feet/ and we'll grow the love between us."

— Alan Sheckter (Chico News & Review)

Integration of the Awkward is a work of heart.

On this album one can expect a genuine MaMuse experience: heartfelt lyrics delivered in our signature vocal style of well woven intuitive harmony backed by upright bass, mandolin, octave mandolin, guitar, and ukelele.

We are learning to work and be playful with what we are given, by our society, by our ancestors, by nature, and what we find within us now. Some of what we encounter is blissful, beautiful, some of what we encounter is extremely awkward! So we write songs and sing, dance, cry, laugh, and sing and dance some more.

We are blessed to have musical support by both long time friend and musical cohort Mike Wofchuck, formerly of Mother Hips and Loyd Family Players, and our new musical friend Bridget Law of Elephant Revival! Mara Friedman of New Moon Visions Sacred Art crafted the beautiful album cover!

"Integration of the Awkward" was recorded in a live environment at Prairie Sun Studios in Cotati Ca. by Mathew Wright and mixed and mastered by Don Srygley at Mojofilter in Muscle Shoals Alabama (Don has mixed and mastered all three of our CD's).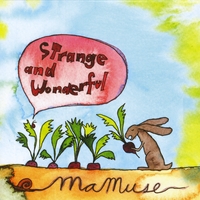 Strange & Wonderful
MaMuse's second full-length effort, Strange and Wonderful, finds the intimate ensemble at its buoyant best, offering plenty of lively and lilting melodic expressions, back-and-forth harmonic vocals over spritely plucked mandolin, rhythmic double bass and brush-stroked snare drums.

The new project builds on the solid song-crafting and joyful two-voices-as-one elements MaMuse brought forth on its debut CD, All the Way. Chico-based duo Karisha Longaker (vocals, bass, guitar) and Sarah Nutting (vocals, mandolin, flute, bass), along with percussionist Mike Wofchuck (Mother Hips, Loyd Family Players), strengthen their unique acoustic niche that Northern California has already embraced and that could be poised for wider adoration.

Soft, cleanly enunciated lyrics of comforting earthy observations are brought forth throughout, almost taking the hand of the listener and saying, "See how truly marvelous the gift of life on this planet can be." The dozen tracks featured here include offerings of vocal jazz ("Natural Order"), nonsectarian gospel ("On the Altar"), Celtic-lite ("Lilliana") and tranquil, flute-infused ballads ("Red Bud"). The sound on the CD, which includes some incredibly soft and delicate passages, is impeccable, thanks to local audio superstar Dale Price and his Electric Canyon Studios.

Strange and Wonderful completely sidesteps any hint of political content, but the profoundness of MaMuse's muses might just be the perfect medicine for all political parties.

- Review by Alan Sheckter/Chico News & Review
- Album art by Diana Caplan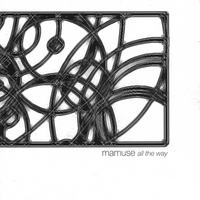 All The Way
"There are roadways paved of mastery and thought. Then there are skyways paved of refrain and rhythmic emotion. MaMuse taps into a epicene tradition that has been long forgotten. A graceful celebration that engages the creative spirit of its listeners and engages them in an ancient, but modern folklore and song."
- Taz Yamaguchi, poet, friend, and host of "Chico Butta"

The album All the Way, our debut album, was recorded in conjunction with a journey across the country in which we got to experience the landscape and textures of this beautiful country. Our songs come from the landscapes we meet, from the places that are waiting to speak.